Blockchain solutions for Marketing 3.0



The sustainable Couponing & Loyalty way
LiberActa is an innovative startup founded in July 2017 to develop projects based on BlockChain technology for introducing disruptive change in current business models used in everyday life. The first step of this strategy led to the creation of BMarkEn, a new generation Loyalty Marketing solution which constitutes LiberActa's most relevant and distinctive offering element.

BMarkEn is an ideal tool to allow Merchants, Retailers, Producers to match two basic needs:
– how to promote their products/services;
– how to retain customers.
In general it has been designed for a wide range of companies operating in B2C, B2B2C business models or more complex scenarios, even anywhere does exist a relationship with consumers or public users. In other words it allows to digitally upgrade the consumer base (active and potential), acting as a powerful executive tool for Operational Marketing and a simple integration with any CRM.
It supports all the most common types of coupons, tickets, gift cards and subscriptions with great flexibility for defining and use them. Moreover it supports all the most common loyalty programs (fidelity card point/value based, cashback).
This functionality has been built upon a deeply innovative, highly efficient and competitive architecture, extremely secure, transparent to the user and virtually scalable without limits.
BMarkEn can be subscribed as self-consistent services or provided as an operating platform or just as an engine to be interfaced by the enterprise application environment through a flexible and wide set of API/Rest services.
What is and how does work BMarkEn - 1 minute videopitch
Main features and functionality BMarkEn will provide a decentralized infrastructure  (based on Ethereum platform) in which the Merchant can define a set of rules (SmartContracts) , securely and transparently during the validation and the accounting of the coupons and loyalty transactions, with more efficiency and a dramatic cost reduction. All transaction data, except user profiles and promotions master data, will flow inside the blockchain infrastructure.
The BMarkEn Project is the first effective implementation on a blockchain architecture of a platform for the Operational Marketing.
Cheaper and faster marketing operations
Just slight fees for using our facilitation services / resources vs the remarkably higher fees currently requested by the major couponing/loyalty players. 
The operation costs of the platform will be cheaper since the exploiting of the open/public Ethereum network and functionality provided to Merchants in order to allow them to manage easily and powerfully promotion/loyalty rules by themselves. This means also a faster time-to-market for your promotions!
Off-chain Cloud & GDPR compliance
Promotions and loyalty programs master data as well as User profiles will be managed off-chain on secure cloud (Merchant owned) to speed performances and to maintain GDPR compliance.
User profiles can't be obviously exposed to public domain and are subjected to data protection policies/processes, while transaction data flow anonimously on the blockchain. Both user profiles and promo/programs master data can be downloaded/synchronized from/with Customer CRM/MDM systems. User Experience designed to give more control/transparency to user envolved in the process.
Merchant app: (just forsmall  Merchant) allows to update his profile, create/control/update/suspend/reactivate his promotions, delivery (directly/indirectly) coupons, burn any kind of coupon delivered.
MMR and Retail Chains will be directly integrated at system level with BMarkEn platform connected to existing customer ERP and Retail management applications.
Consumer app: provides a simple User Interface, localizing interactively any store with active promotions with gmap, browsing active promotions on shop's store and adding them to the cart (transforming them into coupons). Coupons can be also be received (via email or directly) by the Merchant.

Power and flexibility of the solution The Merchants will have the opportunity to manage a wider and very flexible range of business rules because the innovative nature of the SmartContracts and decentralized apps (Dapp). Building a new kind of promotion or a new loyalty schema is no more matter of long process design or heavy system tests needed by traditional centralized systems (independently they are on cloud o on premised or SaaS). Just design the new rules and try/test it on the blockchain sandbox. At least ten times faster! Our solution was not only designed to provide more efficient loyalty and promotional marketing tools, but also to create innovative business models designed to directly retain Consumers, without intermediaries, and tie them to their products and / or services. For example, it is possible to create dynamic couponing campaigns by leaving the logic of variable budget campaigns or fixed budget contests. Thanks to the integrated CRM (or integration with the company's CRM) it is possible to better know your customers, their preferences and their dynamics, communicate directly with them and identify purchasing behavior, also allowing them to interact with the product through an A/R and gamification experience and creating an emotional experience.
Powerful tools for your loyalty/promo campaigns

The core-services delivered by the platform will provide the functionality to support many different Promotion/loyalty business models like those examples listed below, combining any kind of rule with the power/flexibility provided by the SmartContracts:
One shot / permanent discount
the Consumer is offered a %discount that can be used just a one or more time according to predefined rules (typically over a fixed threshold of expenses or/and on a specific categories of goods/services) until an expiration date
the Consumer is allowed to buy a category of goods/services for a discounted price or with a predefined absolute discount that can be used just a single time according predefined rules (also multi-merchant coupon are supported, e.g. Smartbox)
Multi shot coupon (subscription)
the Consumer is allowed to receive 'N' times a predefined kind of service for a discounted price, according predefined rules (also multi-merchant coupon are supported, e.g. Smartbox)
the Consumer has the possibility to spend a predefined amount for buying any (or selected) kind of goods/services until the card loaded amount has been consumed or the expiration date has been reached (also multi-merchant card are supported)
the Consumer has the possibility to accumulate points according predefined rules linked to a spending behaviour; once reached one (or more) predefined threshold(s), he can redeem his points for predefined awards (also multi-merchant card are supported)
the Consumer has the possibility to accumulate cash after his purchases according to predefined spending behaviour; once reached a predefined threshold(s), he can (partially/entirely) transform it into a discount /rebate
Disruptive business architecture
The solution has been designed to provide operational marketing services to MMR, Retail Chains and Merchant Chains trough a disruptive platform based on blockchain, IoT and mobile technology able to make again promotional and loyalty initiatives a sustainable and self-manageable business and more transparent/convenient for the Consumers.
An open solution to help Manufacturers and Retailers improve the Customer Experience of the Consumers and make their business work better.
ETHEREUM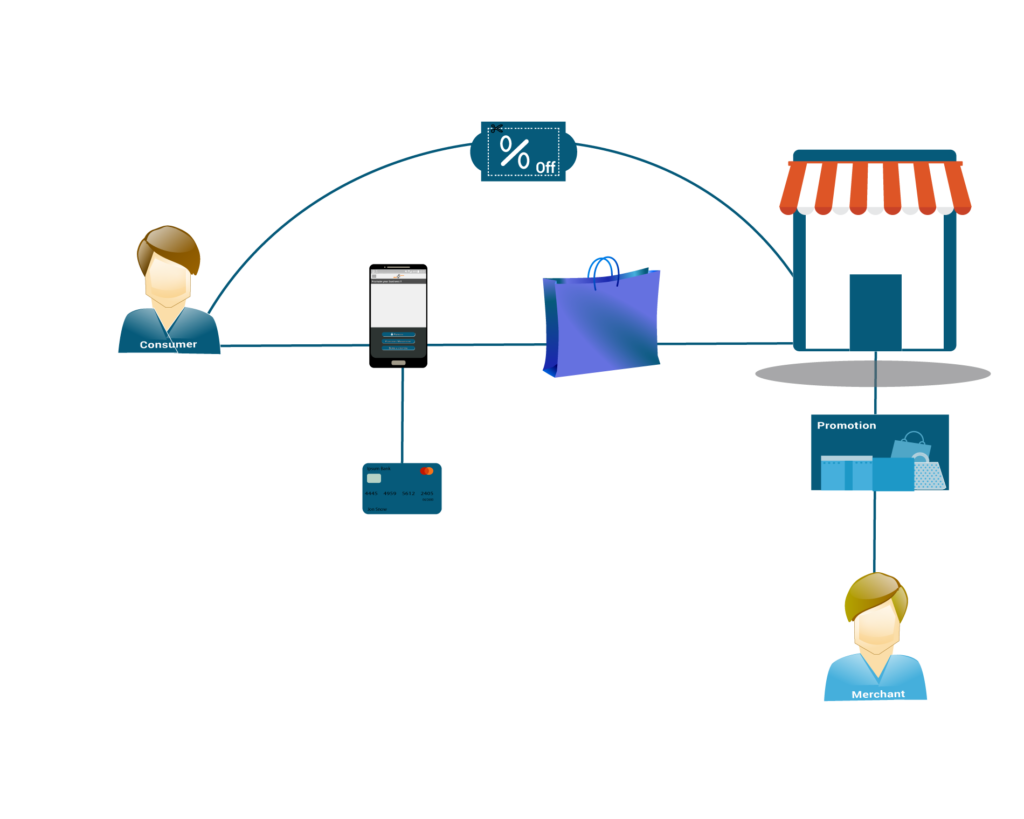 The alternative User Experience for Consumers, Retailers and Manufacturer

When blockchain meets IoT and mobile experience



Our BMarkEn aims to develop an alternative to traditional Loyalty and Couponing solutions, by offering a radically innovative solutions based not just on disruptive technology but also on business process innovation.
BMarkEn doesn't need to introduce new bulky systems or replace existing ones. A flexible set of API REST webservices will allow the integration of the existing communication channels to the Consumers (web portals, mobile apps, Retail Store systems) of the hosting Merchant Networks, Retail Chains, MMR, Manufacturer.
Smaller costs
Just slight fees for using our services/resources.
Faster Time-to-Market
Thanks to the higher flexibility of our SmartContracts.
Total Trasparency
An open ledger on a resilient blockchain infrastructure.
More freedom for all
Enable the Merchants to fully manage their promo and loyalty programs and Consumers to fully control their operations.
Our team is right balanced in the different skills (technology, marketing and commercial management, resource and asset management, F&A) with significant international experiences/curricula. Our team aspire to develop/deploy innovative enterprise solutions exploiting the immense potential of blockchain, effectively fitting for the European/International marketplace.